Patterns & Textures: Simple Ingredients Every Home Needs
What defines a beautiful room? Of course, inspiring furniture designs and accents, appropriate light fixtures and the right colours complete a room. But there's something else too that can take home decor to a whole new level: patterns and textures
What do you think?
Giving your home a new look around major festivals is always a good idea. Luckily we have got tons of fresh ideas to help you beautify the space smoothly.
Find out which pattern or texture appeals to you the most:
1) Wondrous typography
Decorating a specific room with words in different fonts and sizes is a way to define personality of the home owner. From the bedroom to the home office to the walls in the corridor, typography is a purposeful decor element, if used correctly.
Whether you purchase a striking wall art or a set of cushion covers marked with words of jest or positivity – meaningful words positively impact the mood of the house. All you need to do is pay attention while choosing quotes. Inappropriate or overly sarcastic ones can set the wrong tone in the house.
Tip: Textual patterns, when used in abundance in a single area, can add a chaotic effect to the space. Please avoid that by keeping the number of such accessories in check.
2) Gorgeous geometry
Who says geometry is just confined to a mathematics school book? It also spreads a sense of sophistication in homes.
Including patterns such as triangles, circles and octagons in home decor gives phenomenal results. From soft furnishings like carpets, rugs and wall decals to accents such as table lamps, vases and chandeliers, geometrical patterns can exude a mid-century, modern feel in the house.
Tip: Don't stick to just monotones. Experiment with brighter hues such as yellow and orange for a dramatic effect in living spaces.
3) Pretty polka dots
Polka dots have always been largely resigned to children's spaces. However, this playful pattern injects a youthful spirit into other sections of the house equally conveniently.
Make big dots with a metallic paint on a dark piece of furniture or paint little dots on your closet's doors with a colour that matches the rest of the bedroom decor.
Never underestimate the beauty of polka dots in various colours. If you go for a multicoloured approach, restrict the polka dots to a framed picture rather than an entire wall. Of course, having bed linen and wallpapers in polka dots at houses is fairly common.
Tip: Avoiding polka dots when decorating a sophisticated space such as a living room.
4) Nature's palette
Embrace the beauty of the great outdoors with botany-inspired decor schemes. Beautify the feature wall in your living room with a floral wallpaper. Switch your current home office curtains or dining table covers for fern printed-ones.
Place cheery flowers and bulbs on the kitchen counter or on the dining table to brighten up the entire area. Amp up the glamour quotient of the foyer wall with a set of paintings of foliage.
Don't just stick to the colour green with any accessory featuring the foliage pattern. Leaf prints in blues, reds and whites also create a beautiful ambiance.
Tip: Celebrate the season of fall with an orange foliage-inspired accent wall. Decorate an empty corner of the house with a bunch of magnolia leaves.
5) Digital artworks
A picture speaks a thousand words and at home, it tells a whole new story. The concept of digital artworks is slowly becoming popular among interior designers and decor enthusiasts. Spruce up a barren wall, bathroom door or a kitchen wall with an eclectic piece of artwork.
If you want a home accent that really interests you, put up a framed movie poster or a pop culture-inspired artwork on your bedroom wall. Since digital artworks are diverse, it is easy to find a little something for everyone in the house.
Which one is your favourite?
Tip: Avoid hanging up too many artworks on a single wall. Otherwise, the entire room will look too claustrophobic.
6) Exposed brick-wall interiors
A brick wall adds character and warmth to home interiors. If you have the time and bandwidth to get an exposed brick wall installed in your house, please do it. Such walls come in a wide variety of textures and hues to suit different decorating themes such as modern, industrial, contemporary, etc.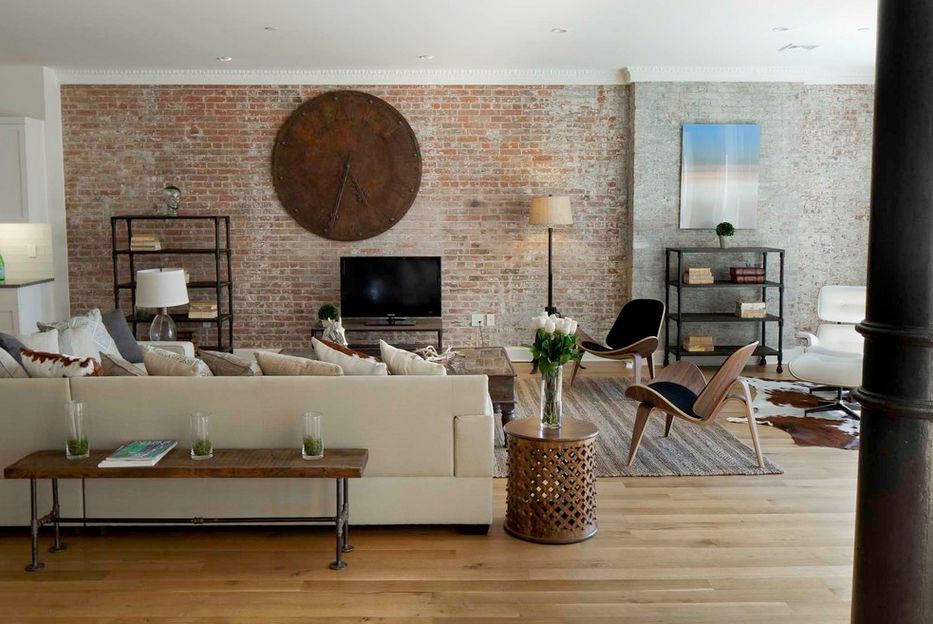 In fact, one feature wall made of exposed bricks is enough to give any room of the house a dose of personality. Perk it up with wall decor and place interesting furniture and light fixtures in the room for an attractive end-result.
Tip: Be extremely sure about getting an exposed brick wall or walls in your home. Since this involves a portion of the house to be renovated, you have to really commit to this project.
Get design support from Mansionly
Liked any of these six patterns and textures but unsure about how to use it in your home? Don't fret – we have a community of renowned global designers who can sort out your doubts quickly.
Contact us NOW.